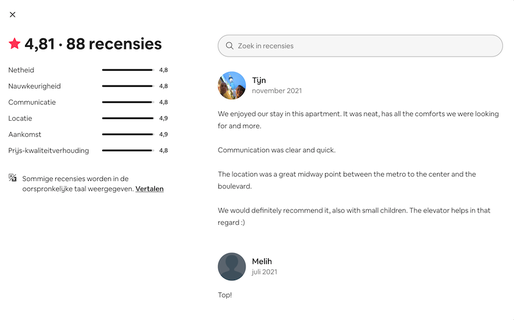 ---
Erica, november 2018
Nuestra estadía en el apartamento estuvo muy bien, tuvimos un problema con el agua caliente pero lo resolvieron rápidamente. Muy buena comunicación y rápida respuesta a nuestras necesidades. Muy lindo y amplio el apartamento y completamente equipado!
---
Loic, november 2018
nice flat and sunny location
---
Rebecca, september 2018
Beautiful flat in a wonderful location. The place was spotless. Check in was great with David going through lots of local tips and things to do. The bathrooms had shower gel and shampoo in them already, and there was a hairdryer which was lovely touch if you have hand luggage only you don't need to worry about this. The bus stop is right outside the flat which take you into the city (Bus 19). Thank you again!
---
N, september 2018
Great flat very spacious, clean, and nicely decorated - looks as per the pictures. Easy check in and out thanks to David who was also very helpful with suggestions about what to do in Valencia. Would definitely stay here again.
Ria, september 2018
We were staying in Jan Henks Appartement for 3 nights as a group of 5 people. The appartement looks exactly like on the pictures and is more than spacious enough for this amount of people. The open living room with a great view to the harbour and two balkonies is really great and cozy. Everything was clean. The appartement is located a few (a bit less than 10) minutes away from the next metro station which runs directly to the airport. Unfortunately the dishwasher and toaster were broken during our stay - but we got an answer really fast, communication with the host was great - the toaster got replaced and even though the dishwasher couldn't be repaired during our stay we loved it!
---
Rosita, september 2018
We had a lovely weekend in this appartment. It is very spacious, clean and has everything you need. The only thing we missed was an ironing board. The location was great, not far from the beach and we took the bus to the city centre. The bed in the master bedroom was very comfortable. The other beds were slightly less comfortable, but still ok.
---
Helga, september 2018
Geweldig ruim en modern appartement op een geweldige locatie!! We hebben genoten van Valencia!
---
Nancy, augustus 2018
Mooi, ruim appartement op een prima locatie. Dichtbij het openbaar vervoer naar het stadscentrum/luchthaven, supermarkt vlakbij en bakker om de hoek, op wandelafstand van het strand. Walter heeft ons hartelijk welkom geheten en tips gegeven over de bezienswaardigheden.
---
Ivor, Johannesburg, july 2018
This is the most exceptional property in the most accessible & upmarket area of Valencia. Sometimes you just get very very lucky. We did.
---
Gonzalo, Bahia Blanca, july 2018
Impresionante departamento. Ultra recomendable
---
Col, Newcastle, july 2018
A great location walkable to the beach and nightlife of the beach, plus a great walk/ bike ride into the city through the park. The apartment was amazing and very spacious for Europe. You felt like home in every way. Everything was as described and supermarkets and public transport were very close. Walter was amazing! He made everything an easy transaction and even took s back to the airport. We did all the local tourist things water suggested. The bar out the front on the corner was very down to earth and daily ale or two was met with friendly banter. Thank you and we will stay here again when back next year!
---
Lisa, Heeten, june 2018
Geweldige tijd gehad op een fijne locatie dichtbij strand en jachthaven. Walter was zeer gastvrij en bediende ons van zeer nuttige adviezen om de omgeving goed te verkennen. We komen zeker nog eens terug!
---
Joe, Auburn, june 2018
Jan's place is awesome! We were two couples ending a month long trip through Spain and Portugal. We only stayed two nights and would recommend at least 3. Walter checked us in, explained how to use various items like automatic shades, heat and air etc. Walter recommended things to visit and places to eat. He drew spots on the map and answered all our questions. Highly recommend this place.
---
Roberto, Wiesbaden, june 2018
Very good apartment and nice service and support from Mr.Walter during the whole stay. Strategically located close to the beach and Turia park.
---
Francis, Bergen, may 2018
Wij waren uiterst tevreden over ons verblijf. De beschrijving op de site is perfect en geeft goed weer wat er wordt aangeboden. Een pluim voor Airbnb wat betreft begeleiding, betaalgemak en netheid. Mooi ingericht die flat!
---
Anna, Paris, april 2018
Une excellente adresse à Valence. L'appartement est au 4ème étage et offre une vue magnifique sur le port et la mer, prendre un petit-déjeuner sur le balcon est un vrai plaisir. Les transports en commun (tramway et métro) sont accessibles et vous ramènent en centre-ville en 20 minutes. La plage est à 10 minutes à pieds. Les équipements sont parfaits, l'appartement est grand et parfaitement adapté pour 6 personnes. L'accueil est extra (merci encore à Walter) ! Nous avons hésité entre un appartement en centre-ville et celui-ci et ne regrettons pas du tout notre choix (la proximité de la mer a été très appréciée par les enfants).
---
Beat, Suisse, april 2018
We had a great stay at Hank's place. Checkin/-out with Walter was perfect. Would stay there happily anytime, again, specifically loved the location.
---
Jose, Madrid, march 2018
El apartamento está bien situado y la información sobre el mismo es correcta. Fuimos con tres niños pequeños en semana santa. El salón y la habitación principal son muy espaciosos, aunque no así las dos habitaciones restantes. Los armarios son amplios, los baños también correctos. En general todo funcionaba correctamente lo cual era de esperar dado alto precio pagado en semana santa. Por cierto que el ruido de las procesiones es inevitable Funciona bien el acceso a wifi. La TV tiene una instalación por cable. Hay fácil acceso a movistar, Prime Video, Netflix. Si se usan las contraseñas privadas para el acceso hay que acordarse de cerrar la sesión. El acceso a la playa de Las Arenas se hace andando. El oceánográfico de la ciudad de las ciencias es muy recomendable. No así el restaurante que se encuentra dentro del mismo por su atmósfera mareante y los precios abusivos. El uso de la bici por toda la ciudad también es muy recomendable dado que la ciudad es muy llana y hay carril bici por muchos sitios.
---
Marie, Sevenoaks, march 2018
Amongst the very best Airbnb flat I have stayed in. Amazing flat, very stylish, great view and quiet. Made very welcome by Walter (and the fireworks!). You would be very hard to please if you didn't like it.
---
Roman, Freienbach, february 2018
We really enjoyed the stay at the appartement, it has everything you need. Great location, supermarket is only 5min away, the arranged pick-up at the airport worked perfectly with Walter.
---
Alessandro, Modena, february 2018
We've stayed here for a business trip and we enjoyed it. The place is near the city centre and the beach, we could quite easily reach the fair too. The house is quite big and comfortable. The living room especially has a wonderful view and the light in the morning is perfect. The host was always available and very kind. A very enjoyable staying in Valencia!
---
Sabine, Zürich, january 2018
Light, clean Appartement with beautiful view
---
Niels, Las Rosas, october 2017
We spent a weekend in this beautiful apartment. The view of the harbour is great. The location at minutes from the beach allowed us to walk an evening on to the boardwalk and eat at one of the beach restaurants. (by the way they may be famous for their paella, but the lobster I had was heavenly and at 25EUR an absolute steal). Jen had 2 persons communicate with us for check in and then check out. Walter and Tomas. They were great, spoke fluent English and Walter was full of excellent advice. If you go to Valencia THIS should be your address. I know we will definitely be back.
---
Cameron, Greenwich, Connecticut, september 2017
Great place
---
Rodrigo, Santiago, Chili, september 2017
Es un departamento full equipado, cerca de la playa.... Una excelente opcion..
---
Francisco, Madrid, august 2017
Apartamento reformado, moderno, amplio, bonito y bien comunicado. Dispone de todo lo necesario para disfrutar de la estancia. Muy recomendable!
---
Maria Jose, Madrid, june 2017
Excelente lugar. Ubicación y vistas estupendas. Muy recomendable
---
Kim, Chattanooga, june 2017
Beautiful view of Valencia Marina and nice apartment.
---
Wim, Rijen, june 2017
Top appartement, modern, ruim en op loopafstand van strand. Walter zorgde voor een goede ontvangst, was iets verlaat maar maakte dat ruimschoots goed met een rondje van de zaak en uitebreide uitleg en tips over de omgeving. Van harte aanbevolen!
---
Samir, Paris, may 2017
Appartement extrêmement bien situé, équipé avec gouts et de manière parfaite. J'ai vraiment adoré
---
Joke, Genk, Belgium, april 2017:
Ruim, schoon en modern appartement op een toplocatie en altijd mooi weer gehad! Wij vonden het er heerlijk!
---
Amrit, California, march 2017:
Jan's place is an exceptional spot from which to explore and enjoy Valencia. It's right near the beach and the "river" and a short walk from the old city center. And the apartment is clean, comfortable, and exactly as pictured. Plus, Jan and his team were superb hosts. We got locked out (our fault), and they came and helped us out on the Sunday of Fallas. Yes, I wish that hadn't happened, but I'm so glad it happened with such a generous and thoughtful airbnb host. Couldn't recommend this place more.
---
Will, Auckland, New-Zealand, march 2017
Great hosts, highly recommended!
---
Solana, Berlin, march 2017
The apartment is beautiful. The bath rooms are so perfect! Location, everything. I will leave a glowing review. And would love to return next year. We were at the Internet Freedom Festival (an annual event)...
---
Andrea, Amersfoort, march 2017
Luxe appartement met alles erop en eraan. Meer dan genoeg voor een heerlijke tijd in een mooie stad!
---
Lynn, Alkmaar, febr. 2017:
What a lovely holiday we have spend in this beautiful apartment, within a lovely surrounding! With a warm welcome and good explanation by the caretaker your holiday has started! Situated in the beautiful Marina district, this apartment offers all the broad variety that you need. Start your day with a coffee in the early morning sun at the balcony with a stunnig view of the harbor and the beach. The bubly city centre of Valencia is located in close vicinity and easily reachable by both public transport (the metro and tram station are situated around the corner) as taxi (low cost). This newly renovated apartment offers all the comfort you need. A royal living room, a fully equiped kitchen, three nice bedroomds and two big luxury bathrooms. Because of the many windows this apartment is very light and has a sunny atmosphere. From the dining table and the couch in the living room you have a splendid view of the Marina district and boulevard as well! We could highly recommend a stay in this apartment to everybody who loves Valencia this accommodation fits all your needs and demands, whilst staying in one of the most fantastic cities of Spain! Perfect location inbetween the beach and the city centre. We will defenitely get back on a short notice!
---
Prices vary from 100 to 220 euro per night, depending  on the season and arrangement. Week arrangements 10% discount, monthly arrangements 25% discount. Check prices below and book safely with AirBnB.